Gustie in Berlin
installation et texte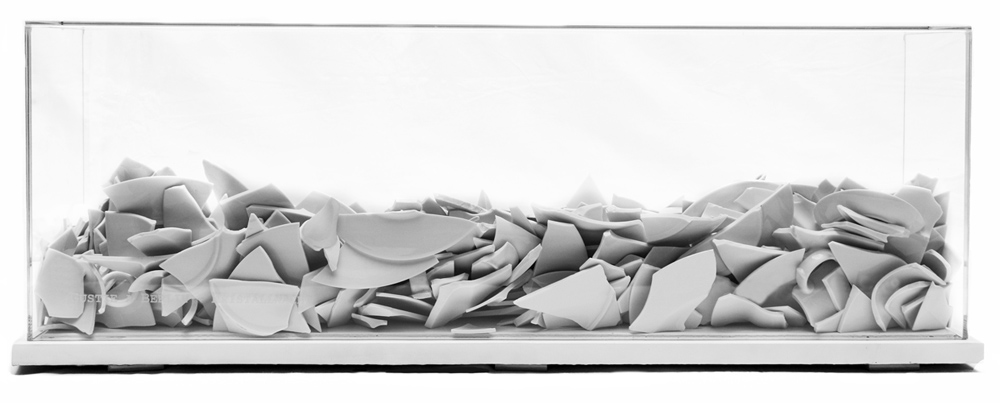 Gustie in Berlin – Kristallnacht
November 9 and 10, 1938
I can't remember where we were when Gustie told me this story. Standing in the Kitchen? Sitting in her sofa? Nothing, I remember nothing, only her blue eyes, the gap-teeth, the freckles, the smile underneath the wrinkles. Her strong accent. For everyone else a German accent, for me a family accent. While listening to her, I remembered what they used to say about her sister Amalia, that she only wanted two things in life: to speak French without accent and to get a tan. A total failure.
–        I made a cake.
At the Bronners', you always make a cake for thirty, even when there are two of you. Maybe you feel that you also have to take the dead into account.
–        No , thank you, I just had lunch…
She cuts a piece for me.
–        Eat the cake…
I eat the cake. We talk of Berlin. The building where they all lived. Each one of them on a different floor.
The flat was very big. We always had our celebrations at home, weddings, bar-mitzvahs…  All the festival crockery was stored in the false ceilings. The dairy crockery, the meat crockery, the Passover crockery, it really made up a lot of crockery. So we put it all up there, in the false ceilings…
While telling this, she reaches up as if the crockery was still above her head. They left Berlin very late. The Bronners were optimists. Should we always be.
–        You know, that night, we were not at home. When we came back the next day… They had destroyed all the false ceilings. I don't know why, maybe they thought that people were hiding there… How did they manage to do it, with rifles, sticks maybe. All the crockery had fallen from the ceilings and then we got in the flat… All the crockery, just like that, on the floor, broken… I remember, I was walking, I had crockery up to my knees.
Where did they go that night. With whom did they stay. All of them together. Or not. Is it what made them decide to leave. I don't know. Did they see the Alte Neue Synagogue burn. Was it the one they used to go to. Maybe the smaller one, very close to their home. I don't know. I should have asked her what the crockery was like.
Thibaut Bertrand – Trystero.fr