Blind spots
installation et texte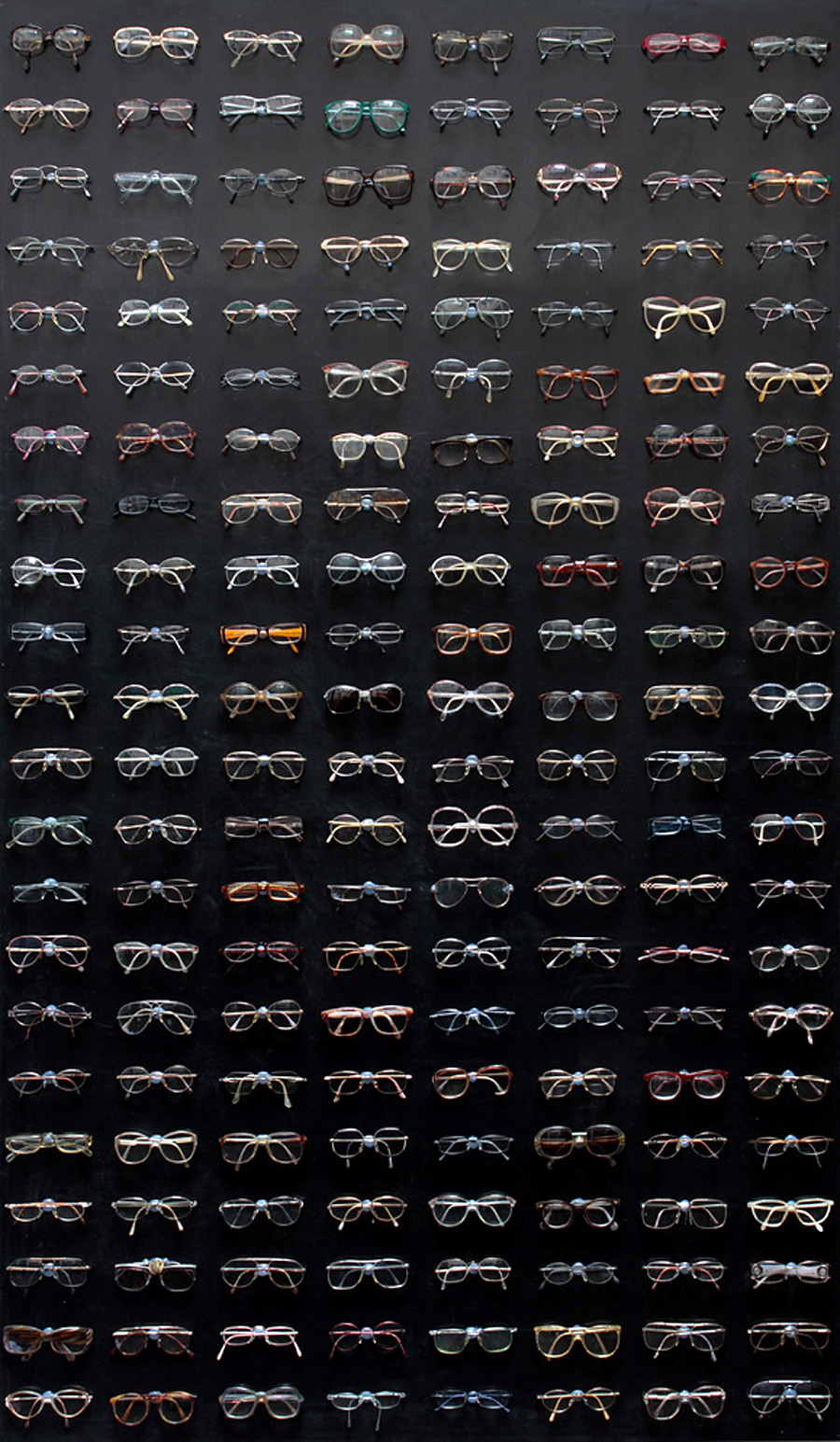 Blind Spots
On a shelf, my father's glasses. I don't know whether these are the ones he was wearing on the day of the accident.
A lens is missing. I think these are the ones. I know these are the ones. I wish I had forgotten about them.
I've decided to go to the second-hand shop to buy more objects.
I found three pairs of glasses. They have thick lenses. I place them in the basket that the man gave me at the entrance. I walk down the aisles. The last pairs of glasses. Does the thickness of the lenses draw us closer to blindness or to clairvoyance. Closer to transparency, for sure.
My father suffered from macular degeneration.
20/200 vision in his left eye. Or was it in his right eye. Only one eye left for reading, what does it feel like when you read all the time. Like his cousin from New York. And his brother. Macular degeneration is hereditary. I don't know whether it is transmitted to women. Through women. I could enquire about it. Provided I wanted answers.
He had walk out from the tennis court. He had said, "I did not see the ball. I didn't see it. It's because of the blind spot". He was holding his racquet like a hammer, as if he wanted to smash the blind spot with it. The leaves were falling. It would soon be winter.
When I look into my eyes in the mirror, I see nothing. I look for my blind spots.
I put what I have bought in front of me. Objects. Three pairs of glasses. I will never know anything of what they saw, of what they read, of the faces who wore them. Abandoned to the streams of chance. You leave little traces behind. Sometimes, a pair of glasses.
Géraldine Cario SBFP
Paris, June 2012
Thibaut Bertrand – Trystero.fr